Around the Web
Check out what's going on for Black friday..
https://bloody-disgusting.com/home-video/3533870/black-friday-2018-best-horror-movie-deals-youll-find-best-buy/


Check this out..On Bloody Disgusting..
https://bloody-disgusting.com/images/3533454/gift-guide-favorite-horror-sci-fi-icons-come-together-one-epic-poster-loaded-easter-eggs/
Your Favorite Killer Leprechaun is back… Check it out..
Coming December 11 The Leprechaun Returns
Ghostbusters
They are doing another Ghostbusters, this will make 3 by Dan Aykroyed..
The last three will be coming back..Its in the works..
https://bloody-disgusting.com/movie/3533384/dan-aykroyd-reignites-ghostbusters-3-reunion-talk/?fbclid=IwAR2sKikHUHXu2uhygexal0P9Lq1DAZMecmkW0UfSZiG_Ewj3wJm4dTPuHMA
Child's play
"Every child in America deserves a best friend, so we built one." – Henry Kaslan. Introducing Buddi! He's more than just a toy, he's your best friend. Meet him on June 21, 2019.

(MANDY)
So what do you think of the new movie Mandy, with Nicolas Cage.
On my list of reviews.
Let me know what your thoughts are..
Nay or yay..
Darklady
~
~
~


The Hollow Child,
Looks like a great and creepy time..
The Hollow Child tells the story of highly intelligent and malicious creatures that entice children into the woods with an ancient hypnotic song.  and rescue her
 A troubled foster teen, Samantha, works to expose a dangerous supernatural impostor in her new family and rescue her foster sister..
Now streaming on Prime Video
Michael Myers Halloween Snowflake
So are you ready for your Michael Myers Christmas Ornament this year..
Check it out on Amazon's
Multi Color Blinking Holiday Christmas Tree Ornament
Amazon's
Choice Price 17.99 +6.95 shipping    
Note:
Not eligible for Amazon Prime.
Clear Outer Edge Lights Up

Batteries Included

4 1/2 inches in diameter

Blinks 3 different colors

Looks great anywhere
Child's Play 
Stabbed its way into theaters on November 9, 1988. nothing better than a pint size doll, on a revenge, and looking for a boy to inhabit..
"Shall we play hide the soul"..Hehehehehehehehehehehehhe
I love this film and i cant believe that it has been 30 years already, so that would of made me 33 when i saw it, YIKES!!!!!!!!!
"I'll be your friend to the end" oh sure you will..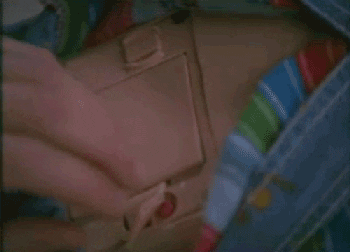 Clownado
Check it out if you dare..

CLOWNADO OFFICIAL TRAILER from Todd Sheets on Vimeo.
Between Worlds


Another Nick Cage film, coming soon..
Bird Box
Coming to Netflix December 21st.. Looks like a great one..
Check out the 80s special effects, there is nothing like them..
https://www.facebook.com/plugins/video.php?href=https%3A%2F%2Fwww.facebook.com%2FNateTalksToYou%2Fvideos%2F1587621984627619%2F&show_text=0&width=560